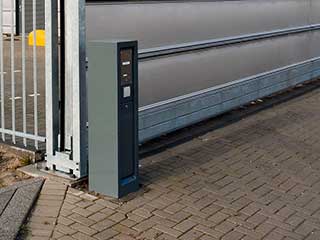 Installation of New Operators
Electric operators or openers make it so that when we want to open or close a gate, we no longer have to deal with them manually. We could just use a small remote control we can carry around with us or we can have it incorporated in our cars. If you're looking to get one set up, we have your back. We have the best gate openers available in the market. We install them for sliding or swing types or for metal or wooden door panels. Contact us today and learn more about all the available models suitable for your needs.
Switching to an Automated System
Going fully automatic is something that is very attractive. Imagine no longer having to prompt your gate to open or close when you arrive or leave. You are completely free from having to think about that ever again. When the automated sensors are in place, they will instruct the operators to open the door panels for you whenever you're in range and once you drive past, they'll automatically close the gates behind you. Choose to get automatic gate openers if you're interested in taking automation to an entirely new level of convenience.
Failure of Gate Openers
If you already have one but it's not functioning as expected or if they're not opening whenever you're already in range, then contact us and we'll take a look. We'll repair the sensors, the control box and the operator gear box and drive assemblies that you currently have. If the damage is beyond repair or if there are worn out parts, we are also capable of replacing them.
Gate Repair and Automation
Automation is only good if the gate itself is functioning well. To be sure, if you have door panels that are sagging and dragging on the ground or if your hinges are about to fall off, then your automated system will fail. You can prevent this by having us check your entire automated system for you. Call us today and we'll use our years of expertise to determine the weak points in your gates, intercoms and automatic operators to ensure that you get the most years of service from your setup.
Our team can also take care of:

Gate Opener Service

Phone Entry Systems

Driveway Gate Service

Parking Garage Gates