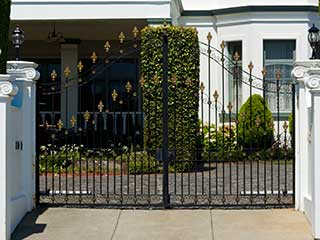 If you want an easy way to make your home more attractive and secure, our custom driveway gates are the perfect solution. Choose from plenty of different options. These include a wide range of styles in both swing and sliding gates. We offer every material you could want, from sturdy steel gates to iron and wooden gates. This means it's easy to discover the ideal new gate for your home. Benefit from better curb appeal and even improved security when you choose one of our high-quality, low-cost gates. Speak with Gate Repair Bedford today to find time for your free estimate.
Bedford Driveway Gate Deals
We're proud to be the specialist driveway gate provider in your area. If you're looking for a wide range of custom gates in many different materials, we're the company to call. Our design process lets you pick from custom steel, iron and wooden gates. If you need a sliding gate or a swing gate, that's no problem. We manufacture our products to the highest standards around, so you can be sure that our workmanship is up to scratch. Also, you'll get total control over your custom gate design. From large pickets and panels on wooden gates to custom iron gate designs, the sky's the limit. Get in touch with our Bedford-based service team today to find out more.
Low Rates On Gate Installation
We understand how essential it is to install your driveway gate properly. Thanks to our many years of experience, we're able to fit new gateways in a short space of time whilst still delivering top quality. Our technicians work quickly even when the job isn't straightforward. Without our high-quality gate installation process, you may discover your gate isn't as stable as it should be. When it comes to gate installation in Bedford, we're the company you can trust to get it done right the first time.
Cheap Driveway Gate Repairs
There are many issues you can encounter with a driveway gate. It's important to get these taken care of as quickly as possible because these problems can be difficult to deal with. For instance, a corroded steel gate might quickly weaken too much to use. Similarly, a rotting wooden gate needs to be repaired quickly to prevent further damage. We offer a full range of gate and gate post repairs in Bedford. Whether your gate won't open or it's beginning to sag, you can trust our technicians to solve the problem quickly and on budget.
Local Driveway Gate Services From Nearby Experts
We're proud to be the go-to driveway gate repair and installation specialist in the Bedford area. If you need a new gate to boost your driveway's curb appeal, or you need repairs to your existing entranceway, simply give us a call. For free quotes on all our work, contact us today.